Gurcharan
Singh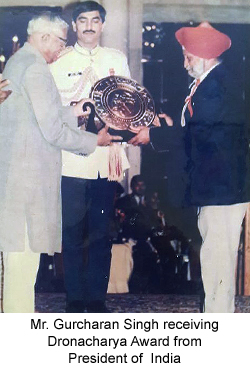 Shri Gurcharan Singh, during his dedicated coaching career spanning over four decades, has groomed a number of Indian cricketers who have gone to represent the country successfully in international matches.
Shri Gurcharan Singh, probably, has the rare distinction to be the only coach in the world to have coached 12 international cricketers and more than a hundred national cricketers, which is a living testimony to his life- long mission of upholding the cause of Indian cricket.
His sincere advisory efforts to promote cricket in corporate sector has been instrumental in enhancing the much-required corporate support for bringing up young Indian cricketing talents, right from grass-roots.
Shri Singh has held a number of responsible positions in institutional framework of Indian cricket, and has been responsible for many systemic changes that have brought a facelift to Indian cricket.
His enduring contribution to Indian cricket coaching has been recognized at the highest level.
He has been adorned with prestigious 'Dronacharya Award' in 1987, in recognition of his enduring contributions to Indian cricket coaching and his role in continuously guiding all his protégées, in fact nearly a generation of them, to scale new highs, taking Indian cricket to the most competitive level in the world.