Catch Them Young
Delhi Blues Cricket Club
What more could a young talent ask for when the ground to develop and hone up his skills gets an opportunity to manifest fully through, a platform as reputed as The Delhi Blues Cricket Club.
Established in 1956 the Club has to its credit iconic names like Kirti Azad, Maninder Singh, Ajay Jadeja, Gursharan Singh, Rahul Sanghvi, Gagan Khoda, Murli Kartik, Surinder Khanna, Sunil Walson, Vivek Razdan, Nikhil Chopra and many more who have in challenging times romped through historic wins for the country.
Mr. Gurcharan Singh
, Chief Coach and the founding President, hardly needs an introduction within Indian cricketing fraternity. Under his tutelage and unflinching commitment for the sport, the Delhi Blues Cricket Club, has been doing a service par excellence for past 55 years. A recipient of The Dronacharya Award, highest Award given to a coach by President of India for outstanding and meritorious work on a consistent basis and enabled sports persons to excel in International events; and thus bring glory to the country. Gurcharan Singh has been a Dronacharya of Cricket in true sense as well.
The USP of The Delhi Blues Cricket has been to identify raw talent, thoroughly train them through a rigorous physical and mental regimen and to produce well chiseled cricketing genius for the country. The Club endeavors to capture the untapped talent, provide creditworthy global and local exposure and set higher benchmarks of excellence in the sport. This is what the Club strives for every day.
The Club strongly believes that for a billion plus population like India there can be really no dearth of talent. The Delhi Blues Cricket Club successfully weaves out that magic by encouraging young people to come into its fold and get transformed to a world class sporting talent.
The Club gives training and extensive exposure through participation in local, district, national and international matches. Every alternate year the boys are taken abroad and exposed to the diverse cricketing cultures, turning them to well grounded individuals with significant local and global exposure.
'Catch them Young' philosophy of The Delhi Blues Cricket Club can well be epitomized in the pithy maxim which says ق│œWhen the going gets tough the tough gets goingق│.

AGM 2018
DBCC Annual General Meeting 2011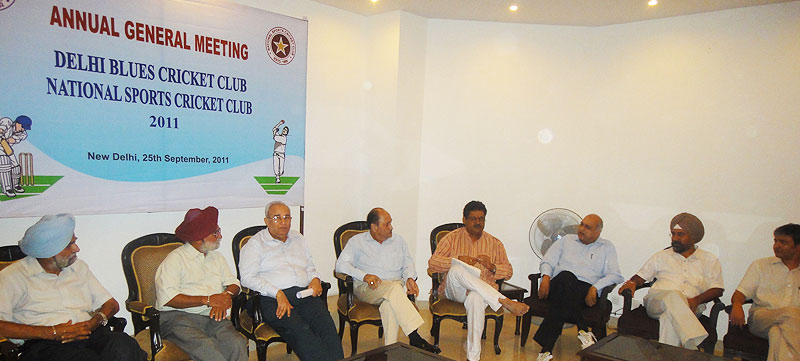 Joint AGM of Delhi Blues Cricket Club and National Sports Cricket Club was held on 25th September 2011 at Punjab Bhawan. Apart from the other proceedings, Mr. Kirti Azad, Member of Parliament, former India India Player and former captain of Delhi Blues Cricket Club accepted the request to be one of the Patrons of National sports Cricket Club. He spoke his heart out on his association with Mr. Gurcharan Singh and National Stadium. He suggested that an all out effort should be made to create a data base of the alumniق│└s of the clubs and to contact them via any means and bring them under one umbrella.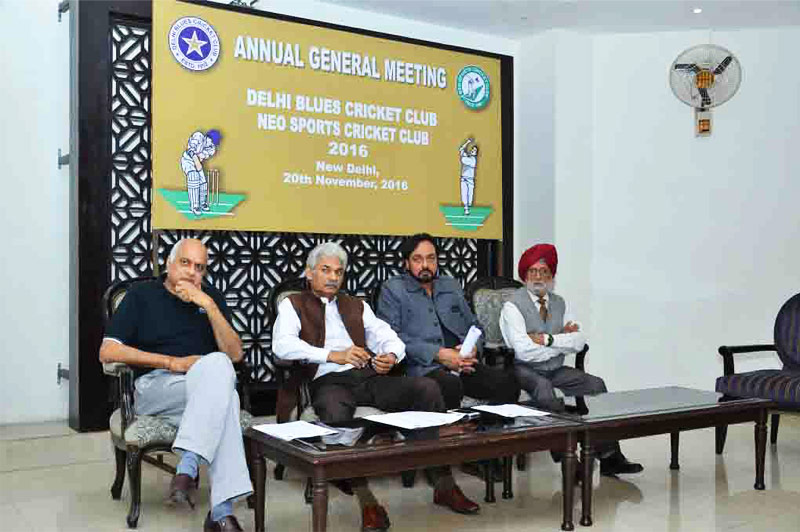 AGM 2016