Amandeep
Singh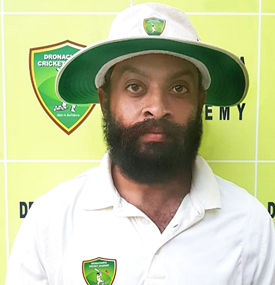 A qualified Level II coach from Cricket Victoria (Australia), Amandeep has decided to join this excellent star legacy to take forward Dronacharya Cricket Academy's consistent effort to be the most professional institution for talented youngsters to hone their skill with traditional and scientific methods of coaching.
Amandeep has represented Delhi Under 25 cricket and was also a part of Ranji Trophy camp. He has earned Masters in Sports Management from top Australian university, Apart from coaching; he has expertise and passion for sports Branding, Sports Governance, Athlete & Coach Welfare and Management.
The competitive and professional cricket experience in Australia gained over the last 3 years has led him to have full understanding of the game. He understands the need for physical fitness, structured training regime for every age group. Aman utilizes every opportunity to emphasis the importance of physical fitness to the juniors and seniors.
He believes that possible efforts should be brought in to give every individual the chance to improve by identifying any issues they need to work on, and how they think, can actually address the issues.